View updated Jan. 2011 Watts Griffis McOuat Technical & Mineral Resource Estimate Report (pdf -50Mb)
View updated 2010 Watts Griffis McOuat Technical Report
(Excerpts and information from 2008 Watts Griffis McOuat Technical Report(1))
Property Location & Infrastructure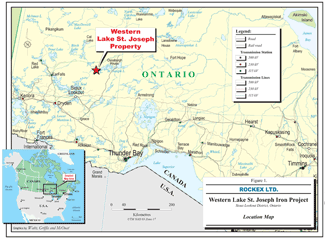 click on image to view enlarged
Property Holdings & Ownership
Rockex's Western Lake St. Joseph Project -- which includes the Eagle Island Deposit, as well as additional potential deposits at Wolf Island and Fish Island -- consists of a 100% interest in 13 contiguous mining claims and covers a nominal area of approximately 2,592 hectares located approximately 100 kilometres northeast of Sioux Lookout and 80 kilometres south-southwest of Pickle Lake.
Proximity to Infrastructure
The nearest hydro-electric power to the Property is located at Slate Falls fed by a 115 kV transmission line. The TransCanada gas pipeline follows Highway 11 through Ignace, Dryden and Kenora, 210 km south of the Property. Sioux Lookout is a major stop along the CN Rail main line, and offers service from Toronto to Sioux Lookout.
Resource Information
Rockex received a NI 43-101 mineral resources estimate for its Eagle Island Deposit which defined 1,287 million tonnes of Indicated Resources at a grade of 28.39% Fe and 108 million tonnes of Inferred Resources at a grade of 31.03Fe (see National Instrument 43-101 compliant report filed on Sedar on October 11,2013).
Preliminary Economic Assessment
On October 13, 2013, Rockex publicly released a positive National Instrument 43-101 report (the "Report") summarizing the results of a formal Preliminary Economic Assessment (the "PEA") prepared by Met-Chem Canada Inc. for the Corporation's 100% owned Eagle Island Project in northwestern Ontario.
History
| | |
| --- | --- |
| Prior to 1921 | Iron exploration conducted on the Western Lake St. Joseph property |
| 1920s - 1930s | Several drill programs focused on iron exploration |
| 1956 - 1959 | Property acquired by Lake St. Joseph Iron Limited (LSJI). LSJI carried out magnetic surveys, diamond drilling and extensive trenching |
| Early 1960s | Ontario Research Foundation and M.A. Hanna Mining documented a 'reserve' estimate of 240 million tons of open pit 'ore' to a depth of 400 ft averaging 35% iron. |
| 1968 - 1969 | Algoma Steel Corp. ("Algoma") optioned the property and carried out an exploration and testwork program to confirm the previous "reserve" estimate |
| 1974 - 1975 | Algoma carried out a diamond drill program focused mostly on Eagle Island. Testwork by Algoma included microscopic examination that revealed iron minerals are mainly hematite and magnetite, in an overall ratio of 1:1. |
| 1975 | Algoma pilot plant tests were completed using 375 tons of a 1,100 ton bulk sample taken from Eagle Island producing commercial grade concentrates with 65-67% iron, 4.5-5.5% silica with overall iron recoveries to concentrate of 85%. "Reserves" for Eagle and Fish islands (including a west extension) were estimated by Algoma at just over 1 billion tons at an average grade of 30.02% SFe. |
| Late 1970s | Studies were initiated along with Stelco Inc. and Dofasco Inc. to develop a large scale, multi-deposit operation in the Lake St. Joseph area with first development to include Algoma's Eagle Island deposit and Steep Rock Iron Mines Limited's deposits at the southeast end of Lake St. Joseph adjacent to Soules Bay. |
| Late 1978 | The three Ontario steel companies agreed to pursue the project to advance development and position the project as a possible source of iron ore for the late-1980s. |
| May 2008 | Rockex acquires the Western Lake St. Joseph iron ore property and begins exploration programs |
| June 2008 | Technical 43-101 compliant report completed by Watts Griffis McOuat documenting historic exploration, mineralization and geology. |
Geology & Mineralization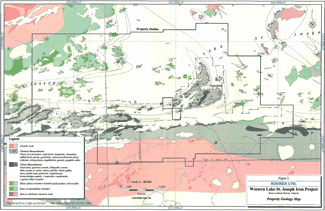 click on image to view enlarged
The Property is situated in the Lake St. Joseph Archean greenstone belt of the Uchi Subprovince of the Canadian Shield. The greenstone belt is underlain and surrounded by, or internally intruded by, both younger and older felsic and mafic plutons. The Property is located adjacent to the southern boundary of the Uchi Subprovince next to the English River Subprovince. The Lake St. Joseph greenstone belt is composed of four volcanic cycles and each is composed of basal tholeiitic basalt flows progressing upwards into dacitic to rhyolitic pyroclastic rocks. In the western Lake St. Joseph area, the Cycle 2 volcanics are unconformably overlain by a suite of
clastic and chemical sedimentary rocks that form the Eagle Island assemblage or Upper Clastic Rocks. It is in this assemblage that hosts the iron formation on the Property.
The base of the Eagle Island assemblage consists of eroded dacitic pyroclastic material derived from the upper part of the Cycle 2 volcanics. This is succeeded upwards by arenite and wacke-sandstone beds, interbeds of mudstone, conglomerate and banded iron formation. Iron oxides consist of fine grained specular hematite and magnetite. The ratio of hematite to magnetite is reported as 3:1 (in the reports from the 1950s) to 1:1 (reports from the mid-1970s). It is likely that in different parts of the deposit, different ratios of hematite to magnetite occur, but this distribution is not completely mapped out. Gangue is described as consisting of silica, sericite, mica, carbonate, chlorite with some hornblende and apatite. The distribution of sulphide components may be partly controlled by stratigraphy (graphitic horizons) but also by gold related alteration systems that affect various parts of the iron formation sequence. Metamorphism is typically greenschist facies in the western Lake St. Joseph area. Mafic metavolcanics contain chlorite-actinolite-albite and the clastic metasediments contain a chlorite-muscovite-biotite-quartz-albite assemblage.
The sedimentary assemblage is largely in the form of an east-west trending, steeply plunging syncline containing a pair of sub-parallel anticlinal folds. The tight and isoclinal folding has resulted in repeats in the iron formation sequence which is mainly coincident with the north, east and south shores of Eagle Island and dips steeply. Because of the folding, the bulk of the iron formation on the Property is concentrated on and adjacent to Eagle Island. A trenched and well drilled section of iron formation outlined by historic work on the north part of Eagle Island is in the order of 1.3 km long, 350 m to over 400 m wide (true thickness) and is well drilled to depths of 150 m to 200 m.
The south east extension of this north Eagle Island part of the iron formation extends to form the east and south limits of the south part of Eagle Island. This section along the southeast shore of Eagle Island is well mapped on surface, in trenches and diamond drillholes. The drilled and trenched portion of this domain has a strike length in the order of 2 km. Historic drill testing on cross sections at 250 m intervals has been to about 150 m vertical. The true thickness of the iron formation for this domain varies from approximately 200 m to 80 m with thicknesses diminishing with increasing distance along strike away from the north part of Eagle Island.
Fish Island is located about 2.5 km west of Eagle Island. Fish Island also appears to contain an increased thickness of iron formation. The multiple bands exposed on Fish Island may be due to parasitic folding along the south limb of the main structure but alternatively perhaps, might represent a repeated sequence at the nose of another isoclinal fold. Fish Island was trenched and drilled by LSJI with 10 drillholes on six cross sections testing the steeply, to vertically dipping zone over a strike length of 1.3 km to vertical depths of 100 m. Representative drillhole J-17 intersected 350 ft (106.7 m) of oxide iron formation grading 36% Fe. The true width of this zone is in the order of 91 m.